Attack on Titan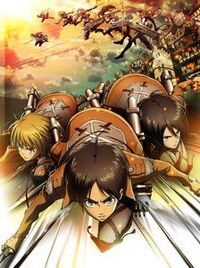 When the man-eating giants called Titans first appeared, humans retreated behind massive walls. After a hundred years of safety, a colossal-sized Titan smashes through the defenses, unleashing a flood of giants and carnage in the streets. Eren Jaeger watches helplessly as one of the creatures devours his mother. He vows to kill every Titan walking the earth. Eren and his surviving friends enlist to fight against the insatiable monsters. The future looks bleak, but there's more to Eren than meets the eye: he may be humanity's last hope against extinction.
Read More...
---
Ad blocker interference detected!
Wikia is a free-to-use site that makes money from advertising. We have a modified experience for viewers using ad blockers

Wikia is not accessible if you've made further modifications. Remove the custom ad blocker rule(s) and the page will load as expected.